A website builder is a platform or program that allows you to quickly and easily put together a website. These website builders help you get your piece of internet real estate set up so you can start establishing your online presence, a unique outfitted with your brand's own elements, content, and offerings, tailored to your specific business goals. Website builders typically feature drag-and-drop software that lets you customize elements on a page with layouts chosen from a handful of available web page templates. Website builders exist in both online and offline formats, the main difference being an internet connection. An online website builder won't require any software downloads; it'll simply work through your internet browser.

Wix is a very popular cloud-based website development platform that serves millions of users from all over the globe. With Wix, small businesses and individuals are given the tools and capacity to build beautiful and professional-looking websites that do not hamper their creativity with coding expertise. Wix is a free service, but users can opt to improve their websites by subscribing to Wix's premium plans, one of which is devoted exclusively to eCommerce providers.
Steps for creating a website using wix:
Sign up for a free website builder. Choose what kind of website you want to create.
Customize a template or get a website made for you. Choose your starting point.
Drag and drop 100s of design features.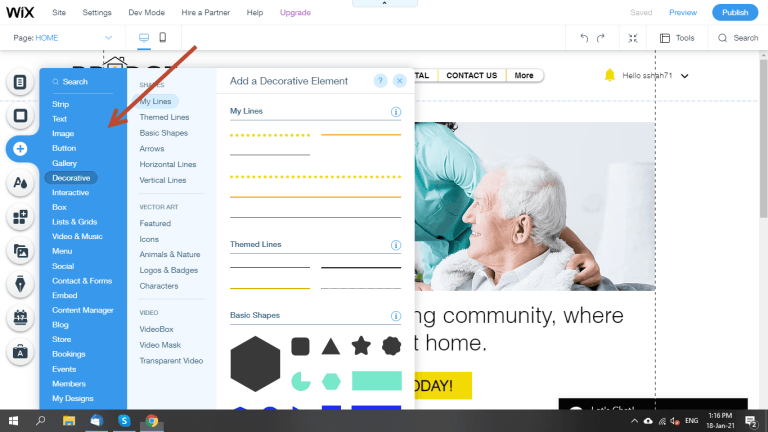 Get ready for business.
Publish your website and go live.
Drive traffic to your site
Main Dashboard
Features
Intuitive Website Builder.
100s of Designer-Made Templates.
Customizable Designs.
Free and Reliable Hosting.
Optimized Mobile View.
One-Pagers.
Drag n' Drop Website Editor.
Image Editor.
Pros
You receive upgraded design templates.
The interface is intuitive and useful.
You're not locked into long-term plans.
Wix takes care of your site security without compromising speed.
You receive an all-in-one solution.
Cons
The starter plan doesn't remove ads from your site.
There are no unlimited plans.
Drag and drop designs can limit your creativity.
The App store on Wix doesn't really offer apps.
SEO is a pain in the neck with Wix.
Free Plan/ Trial
Available
Starting Premium Price
$14
Our Rating
⭐⭐⭐⭐⭐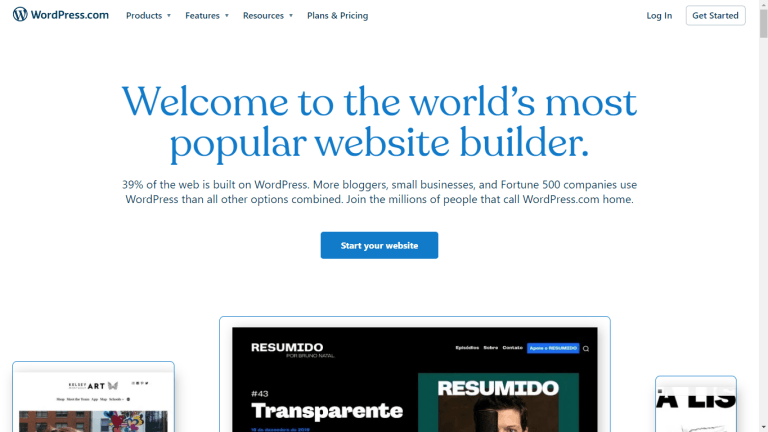 WordPress is a web publishing software you can use to create a beautiful website or blog. WordPress is an excellent website platform for a variety of websites. From blogging to e-commerce to business and portfolio websites, WordPress is a versatile CMS. Designed with usability and flexibility in mind, WordPress is a great solution for both large and small websites. The beautiful part about WordPress is that it adapts to your needs. It can be as easy and simple as you want, or as complex and sophisticated as you need it to be.
Steps for creating a website using WordPress:
Choose a domain name
Register a domain and sign up with web hosting
Set up a website using WordPress (through web host)
Customize your website design and structure
Add important pages and content
Set up a navigation menu
Add an online store (optional)
Main Dashboard
Features
Show/Hide Things Using Screen Options
Move, Add, or Delete Dashboard Widgets
Paste URL to Make Links in Visual Editor
Accessibility Mode for Widgets
Preview Themes Without Activating Them
Edit Images in WordPress
Split Single Post into Multiple Pages
Embed Links, Videos, and Multimedia
Pros
WordPress is free and gives you complete control of your website.
It gives you access to a huge collection of extensions, add-ons, and plugins to extend your website.
You can make your website super fast and use all the neat SEO best practices to bring new users.
Super easy to customize with thousands of website designs and templates to choose from.
Cons
It takes some time for most beginners to get familiar with it and learn the basics.
Frequent Theme and Plugin Updates
Free Plan/ Trial
Available
Starting Premium Price
$100
Our Rating
⭐⭐⭐⭐⭐
Squarespace is a web builder that has been targeted at creative professionals. It is a trustworthy website and online store builder with an intuitive editor. Their main direction is providing a platform for creating a beautiful and quality website. Therefore, you may find some restrictions regarding freedom of customization, but it isn't a huge obstacle. Squarespace is one of the most popular e-commerce website platforms in the world.
There's a good reason for that. They offer e-commerce functionality built directly into their plans, which is not the case for most traditional website builders.
Steps for creating a website using Squarespace:
Choose a template. To begin, go to Squarespace.com and click on the "Get Started" button.
Start your free trial. Once you choose a template, click on "Start with this design" to begin building your website.

Get a free domain. To make your website live, you'll need a domain.
Tips on using Squarespace.
Main Dashboard
Features
Good for tech novice
Live chat support
Good for SMBs
Web-based
Monthly pricing
Pros
The designs are brilliant and also pretty flexible.
Fast support via live chat
Sophisticated blogging capability
Professional and dynamic templates
Cons
Squarespace offers limited integrations with third-party service which can be a hurdle in growing your business.
Their e-commerce plans only allow Stripe, Apple Pay, and PayPal for payment processing.
There is no backup and restore feature,
Free Plan/ Trial
Available
Starting Premium Price
$12
Our Rating
⭐⭐⭐⭐
Shopify is the best ecommerce builder— in part because it's only for ecommerce websites. Shopify is a commerce platform that allows anyone to set up an online store and sell their products. Shopify is now the leading commerce platform designed for businesses of all sizes. Whether you sell online, on social media, in store, or out of the trunk of your car, Shopify has you covered. Shopify powers 3.3% of all websites on the Internet, which puts it right behind Squarespace in terms of popularity.
Steps for creating a website using Shopify:
Start a free trial of Shopify.
Add the products you want to sell.
Create key pages for your store.
Pick a theme and customize your online store.
Customize your shipping settings.
Configure your tax settings.
Set up your payment gateway and payouts.
Prepare your store for launch.
Main Dashboard
After setup
Features
Fully customizable website, online store, and blog.
Unlimited bandwidth, product inventory, and customer data.
Sell on new sales channels like Pinterest and Amazon.
All popular payment gateways supported.
Automate your fulfillment process with 3rd party shipping apps.
24/7 award-winning customer support.
Pros
Simple to use
24/7 support
Lots of Themes
Customizable
Shopify is a fully hosted platform
Cons
Shopify is not a free platform to useApp Integrations Can Disrupt Your Theme
Free Plan/ Trial
Available
Starting Premium Price
$29
Our Rating
⭐⭐⭐⭐⭐
Weebly is one of the best website builders on the market. It offers unparalleled ease of use and a wide array of innovative features through an extremely efficient user interface. They should provide a better way to purchase email accounts; but other than that, Weebly hits the spot. Weebly is often listed among the best free website builder software. It's true; it's hard to argue with the price tag, but as with most things, you get what you pay for.
Steps for creating a website using Weebly:
Sign Up.
Select a Theme.
Choose Your Domain.
Design Your Weebly Website.
Add Apps.
Add a Store.
Choose a Price Plan.
Publish Your Weebly Website.
Main Dashboard

Features
Great For Those With Little Experience
Easy and Powerful
Website builder with templates
Web hosting
Blogging
Online photo gallery creation
Video & audio players
CSV File exporting
Pros
Easy customization.
Integration with other apps and add ons.
Intuitive and easy to use.
Affordable.
Constantly improving and adding new features.
Meets standards for security and cookies.
Cons
Layout and format can be a bit cluttered.
You are locked into a very specific platform.
SEO functionality is limited.The plug-ins are limited.
Free Plan/ Trial
Available
Starting Premium Price
$12
Our Rating
⭐⭐⭐⭐
BEST WEBSITE BUILDERS COMPARED
| | | | | | |
| --- | --- | --- | --- | --- | --- |
| | Wix | WordPress | SquareSpace | Shopify | Weebly |
| Best For | All websites type. | Writers and bloggers | Prepackaged design for bloggers, artists etc. | Basic E-commerce | Setting your website fast |
| Free Trial/ Plan | Yes | Yes | Yes | Yes | Yes |
| Uptime | 99.96% | 100% | 99.99% | 99.99% | 99.98% |
| Help & Support | Available | 24/7 | Live Chat | 24/7 | Live Chat |
| Website Building Speed | Fast | Fast | Average | Fast | Fast |
Wrapping-Up
When you build your website you really just want to have a clean and easy-to-use online storefront, website builders come handy at this stage. If you are looking to create a normal website to represent you business online, then we recommend that you get started with WordPress, Wix or Squarespace. But If you need an e-commerce website to sell products online, Shopify is a good choice.
Related Posts
A team of Digital Marketing experts led by Vijay Sood.