A sales funnel is a step-by-step process that allows you to bring your potential customer one step closer to your offer through a series of marketing actions like automated emails, videos, articles, and landing pages that will do the selling for you. A Sales funnel software can provide you with a holistic view of your sales and marketing efforts at a glance. The sale funnel helps companies understand and visualize their sales process and measure overall conversion success between each step of the funnel.
ClickFunnels is one of the most prominent sales funnel software tools on the market, and for good reason — it's as easy to operate as any similar resource available. The platform has tools to guide buyers through each step of the sales process — like email and Facebook marketing automation — and an accessible, smooth web page editor.ClickFunnels is designed for entrepreneurs and small businesses with little to no coding skills who want to create and systemize their online marketing and sale funnels.
Features
Funnel templates.
Conversion optimization tools.
Affiliate tracking & management.
Email auto-responders.
Communication management.
Contact database.
Conversion tracking.
Pros
Mobile Optimization.
Integrations.
ClickFunnels's biggest strength is sales funnels.
Amazing customer support.
Cons
ClickFunnels has a built-in membership area, but it does not allow for very much customization.
Free Trial/ Version
14 days free trial
Premium price Starting from
$97

GetResponse is probably the most complete solution on this list. Having recently introduced their Conversion Funnel feature to their email marketing software, you can now set up everything from social media campaigns to landing pages to webinars to email automation. You can even sell your products through GetResponse or integrate your account with your existing eCommerce. In sale funnel software, GetResponse's Conversion Funnel is quick and easy to set up, and visually, you can see exactly how your leads filter through. They also have a good selection of modern-looking landing pages and newsletter templates.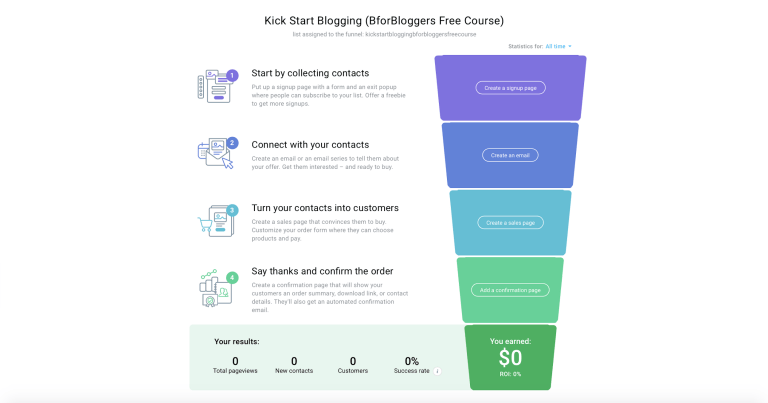 Features
Promote and sell your products with a ready-made, ready-to-go, sale funnel.
Webinar software.
Stores for products.
Ecommerce integrations with Etsy, Stripe, Shopify, BigCommerce, Magento, WooCommerce, and PrestaShop.
Abandoned order retargeting emails.
Payment processor integrations with Square, Stripe, PayPal, BlueSnap, and PayU.
One-click upsell pages.
Automated order confirmations.
Pros
Functionality for each step of the sales cycle.
Funnel templates.
Ecommerce integration.
CRO features like upsells, exit-intent pop-ups, and more.
Marketing automation.
Cons
Pricing is often based on the size of your contact list, so it can get expensive
Free Trial/ Version
30 days free trial
Premium price Starting from
$15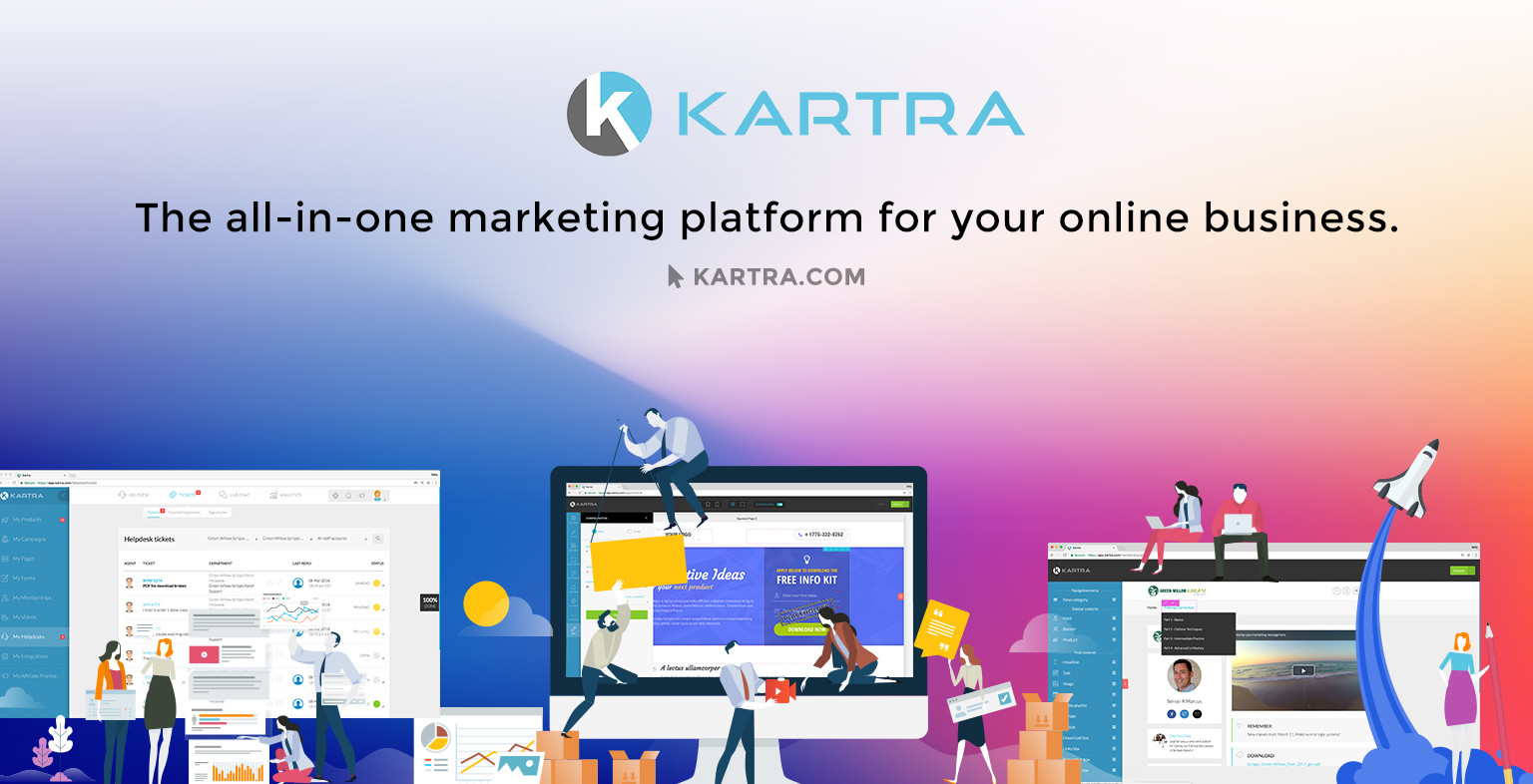 Kartra is one of the best choices for building sale funnels, as it takes customers step by step through the sales journey. This all-in-one software comes with pre-built funnels, so it's easy to change the content to match your offerings and publish quickly. It also offers more customization if you want to perfectly match your brand's style.
Kartra makes it easy to create multi-page sales campaigns on your website. A drag and drop sequence builder lets you visually map out each landing page, so you can create intuitive customer journeys with UX in mind. Their funnel tool also includes an easy if-then rulebook, so you can trigger certain responses to visitor actions. Kartra includes all of the functions you need to create an effective sales funnel. This product includes landing page creation and sequencing, automation triggers, email sequencing and retargeting, lead tagging, check-out pages, and more.
Features
Multi-page funnel creation.
Drag and drop sequence builder.
Automation and trigger events.
Email marketing.
Lead tagging.
Plug-and-play campaigns.
Advanced rule creation.
Campaign marketplace with other user's funnels.
Web forms.
Pros
Comprehensive sales funnel functionality.
Sequence builder is one of the best.
Easy automation and rule creation.
Plug-and-play – create and publish funnels quickly.
Cons
Expensive, and the price grows with your business.
Not as many integrations as others – but most functionality is included anyway.
Free Trial/ Version
Free trial for limited time
Premium price Starting from
$99
ThriveCart is a sales cart solution that allows you to create checkout pages for the products or services that you sell online. Whether you sell digital courses, e-books, or physical products, this software allows you to create custom checkout pages to suit your offering. It also allows you to also collect as much important customer information as you want at your checkout page. With ThriveCart, you can choose your preferred payment method from several options. This means that if you have a product or a service that requires you to bill your customers monthly or only require a once-off payment – this solution can handle it. If you have different payment methods for the same online products or services, then this solution allows you to segment your customers by their payment method.
Features
Live traffic and conversion rate tracking.
Lifetime price for Pro Account and Standard Account.
Continuously upgraded.
30-day money-back guarantee.
Built-in sales tax calculation.
Advanced Affiliate Center.
Pros
ThriveCart is very easy to use.
High converting checkout pages.
Integrates with all the major payment gateways.
High levels of customization.
Fast customer support.
Cons
No trial or free plan available to try out the software before buying
Free Trial/ Version
N/A
Premium price Starting from
$95
GrooveFunnels is an all-in-one tool that allows users to build sales funnels, landing pages, and websites to sell products online.GrooveFunnels is the newest sales funnel building software on our list and the newest in the market right now.
Basically, GrooveFunnels is an all-in-one funnel building platform with a range of apps that are all designed to help anyone who's trying to market, sell, and promote their business. And it's blowing up. If not for anything but because Mike has a good reputation for building amazing software.
Features
This tool allows you to build landing pages, websites, and sale funnels.
This tool gives you access to GrooveFunnels payment gateways.
You can sell physical products, digital products, subscriptions, or memberships.
GrooveFunnel's email marketing solution and CRM.
Pros
Lifetime access to the product.
No credit card required to use the free version.
All of the GrooveFunnels apps natively integrate with each other.
Provides API and SDK for developers so they can create plug-ins, extensions, and apps that integrate with the platform.
No coding knowledge required to use the tools.
You can find resources to learn more about the platform on GrooveAcademy.
20% of commission earnings with affiliates, up to 40% if you buy the lifetime deal.
Cons
It is still in beta mode.
Relatively new in the game.
Free Trial/ Version
Available
Premium price Starting from
Available on Customization
SamCart is a good online shopping cart for bloggers and people who are selling digital products. If you are selling physical products, then it is not best suited for that purpose. The biggest disadvantage of SamCart is its price.SamCart can be very costly over the years of using their service. It's easy to use, integrates with everything, and is backed with awesome support. Not only that but they have advanced split testing features that helped me make an extra $24,074 in quite literally just a few clicks.
Features
Shopping cart abandonment.
Marketing automation.
A/B split testing.
Downsell pages.
One-click upsell.
Pros
Ease of use is a key priority of the platform.
More affordable than ClickFunnels.
A basic plan with a low per month cost great for smaller budgets.
Email marketing integrations available.
Unique checkout page templates.
Cons
No extensive marketing options.
Not suitable for building funnels that need a traditional sales page (SamCart takes pride in their 1-page funnels).
Must purchase the premium package for affiliates.
Their most expensive plan gets priority support.
Free Trial/ Version
Available
Premium price Starting from
$49
Key Takeaways
The sales funnel software is the most effective method for any business to succeed. However, it involves several different components and can be quite problematic for beginners. Utilizing the right sales funnel software and tools can help you cut your learning curve, saving time, and effort. ClickFunnels and Kartra both have fairly easy-to-use software and plenty of video tutorials and help getting started.
Relatable Posts
A team of Digital Marketing experts led by Vijay Sood.