Video conferencing is a technology that allows users in different locations to hold face-to-face meetings without having to move to a single location together. Video conferencing software enables online communication for audio meetings, video meetings, and seminars, with built-in features such as chat, screen sharing, and recording. These applications are implemented to enable long-distance or international communication, enhance collaboration, and reduce travel costs. Employees at every level within an organization can use video conferencing tools to host or attend virtual meetings with fellow employees, company partners, or customers, no matter where the attendees are physically located.
Zoom Video Communications, Inc. is an American communications technology company It provides video telephony and online chat services through a cloud-based peer-to-peer software platform and is used for teleconferencing, telecommuting, distance education, and social relations. Zoom software is the leader in modern enterprise video communications. Zoom helps businesses and organizations bring their teams together in a frictionless environment to get more done. Zoom has become extremely popular in the world of business with over 20,000 companies choosing to use the service. A zoom Meeting is what you can use on a normal subscription and is intended for up to 100 attendees. It also supports larger audiences with Zoom Rooms. These support up to 500 slots for people, but it does require an additional subscription.
Features
HD video and HD voice
Full-screen view
Join by Zoom Rooms
Group messaging
Simultaneous screen sharing
Whiteboarding
HTTP access
Pros
It's seamless to use Video conferencing software
Video and audio quality
Simple Online Meeting
Cons
Zoom has had some glaring problems of privacy and security.
Lack of Comment Control
Free Version/ Trial
Available
Starting Plans
$149.90
Skype is a proprietary telecommunications application that specializes in providing video chat and voice calls between computers, tablets, mobile devices, the Xbox One console, and smartwatches over the Internet. Skype also provides instant messaging services. Users may transmit text, video, audio, and images. When you use Skype to make your online calling free, you also have the opportunity to enjoy more unique features:
Share your desktop or mobile screen. Easily share presentations, holiday photos, or anything on your screen during a call with integrated screen sharing.
Drag and drop files etc
Features
Instant and scheduled meetings.
Video conferencing.
Screen sharing.
Record, replay, and share.
Moderator controls.
Share your screen.
Share mouse and keyboard control.
Pros
Very easy to navigate and use.
The webinar feature is a major bonus to an already good platform.
Cost-effective.
Cons
In order to utilize the recording feature, you must be on the pro edition
It doesn't have an option for the desktop
Free Version/ Trial
Available
Starting Plans
Pay as you go
GoToMeeting is a web-hosted service created and marketed by LogMeIn. It is an online meeting, desktop sharing, and video conferencing software package that enables the user to meet with other computer users, customers, clients, or colleagues via the Internet in real-time.

Features
Screen Sharing
Conference Calling
Video Conferencing software
Mobile Conferencing
Meeting Recording & Transcription
Conference Room Equipment
Pros
High-quality video and audio conversations
Easy to join
Cuts costs since no need to travel to join a meeting
The auto connection from a mobile app.
Ability to see presentations on-screen.
Cons
The audio muting should be controlled by the host only so that noise can be controlled.
Customer service
Free Version/ Trial
Available
Starting Plans
$14
Microsoft Teams is a chat-based workspace in Office 365. It brings together people, conversations, and content along with the tools that teams need so they can easily collaborate to achieve more. Microsoft Teams is a cloud-based group chat solution that helps teams collaborate on documents. Its key features include messaging, conferencing, and file sharing. Microsoft Teams integrates with third-party applications such as GitHub, Microsoft Office, Power BI, Delve, Planner, Trello, and more. The application is available on a one-time subscription and support is available via phone and online help desk.
Features
Mobile AccessOn-Demand Webcasting
Presentation Streaming
Presentation Tools
Private Chat
Real-Time Chat
Record & Playback Ability
Screen Sharing
Two-Way Audio & Video
Video Conferencing
Pros
Good audio quality.
Good video quality.
Possibility to share your entire screen or one specific app.
The integration with Sharepoint and Office 365 tools is really awesome
Super easy to figure out how to use – very intuitive, even for low-tech users.
Cons
Improve Bluetooth connection stability.More responsive.Reduce the number of clicks to do actions.
Free Version/ Trial
Available
Starting Plans
$125
Google Meet is a video-communication service developed by Google. It is one of two apps that constitute the replacement for Google Hangouts, the other being Google Chat. It has Real-time meetings by Google. Using your browser, share your video, desktop, and presentations with teammates and customers.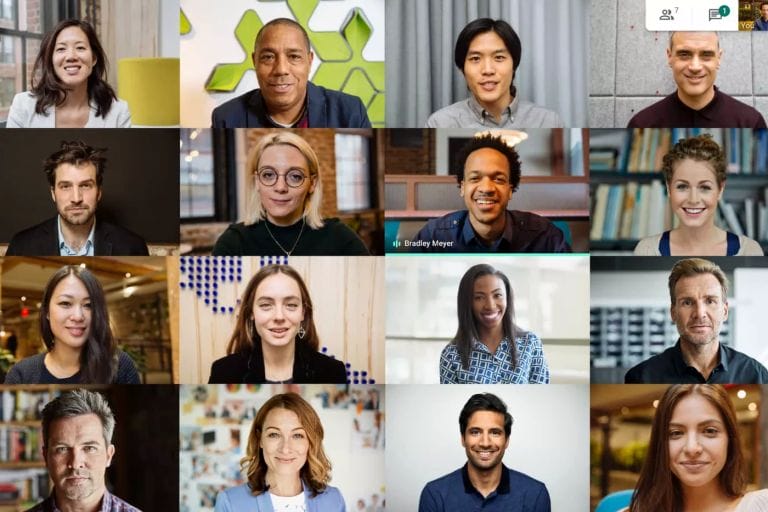 Features
An unlimited number of meetings.
Live to caption during meetings.
Compatible across devices.
Video and audio preview screen.
Adjustable layouts and screen settings.
Controls for meeting hosts.
Screen sharing with participants.
Messaging with participants.
Free video conferencing software
Pros
The app is good for communicating with clients, friends, and a family consisting of a limited number of people.
The interface is seamless to navigate.
There is no learning curve.
Screen sharing is very easy.
Cons
The downfall of the app is that you need to have a Gmail account to gain access to the video conferencing.
The quality of video and audio could be better.
Free Version/ Trial
Available
Starting Plans
Free to use
ClickMeeting is video conferencing software. It can be trialled without signing up with a credit card, which is handy if you're still on the fence. ClickMeeting is a browser-based platform that works on all the latest versions of browsers, operating systems, and devices, including iPad, iPhone, and Android devices. No IT skills nor setup are necessary to start using the software. Interestingly, it has YouTube integration, meaning you can play videos within a meeting.
Features
Getting started is hassle-free and only takes a moment.
Customize your webinar room and other elements with a few clicks
Engage your audience with your content and allow for interaction.
Pros
The interface is user-friendly.
Allows all users to use an implement without any specialized software.
Cost is a low or free trial.
Good functionality.
Cons
No desktop sharing on Chromebooks or other non-Mac/non-Windows devices.
Lack of customer service.
Free Version/ Trial
Available
Starting Plans
$25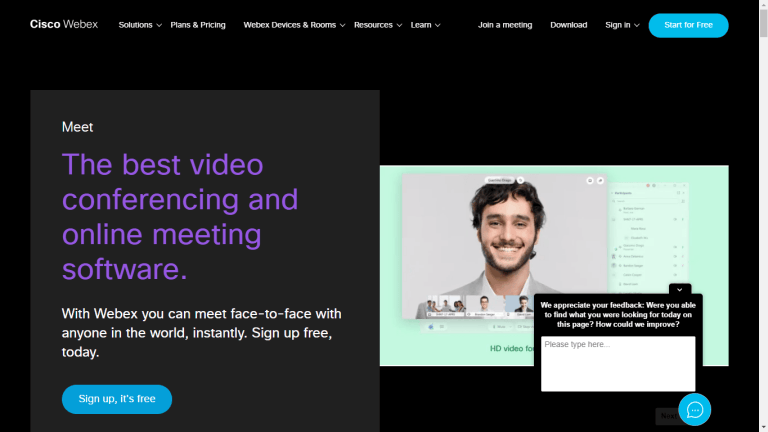 Cisco WebEx is a web conferencing software that aids users to hold online events and meetings and serves as a team workspace as well. The software features flexible solutions aimed to accommodate businesses of all sizes and offers different plans to conform to different requirements. Cisco's expertise in network connectivity plays a large part in providing a platform, broadcast-quality audio, and multiple productivity tools to WebEx.
Features
20 million reliable video conferences a month.
Free video calls and screen sharing with Webex.
Screen share — free.
Webex webinars are delivered reliably.
Easily present online.
Collaborate with your team.
Get more from your conference call.
Pros
Interactive student participation with Annotation tools
Ability to save slides as PDFs (with annotations included)
Pleasing and logical layout and appearance
Ability to share embedded multimedia in slides with UCF format
Excellent quality audio and video
Cons
Allow more Virtual Backgrounds
Allow a waiting Lobby room where you can leave attendants with an 'on Hold' Music, pre-recorded message, or Video.
Free Version/ Trial
Available
Starting Plans
$12.95
RingCentral Meetings empowers you to collaborate around the world on all of your favorite devices. Share content and meet with teams live in HD video. This application allows you to connect with participants from all over the globe from any supported device of your choice. Going beyond the communication platform function, RingCentral Videos allows content sharing of files from your computer, Dropbox, or Google Drive. To further optimize its performance, RingCentral Videos offers add-ons for hosting webinars and large meetings, which can accommodate up to 500 participants. It also has free online meetings and screen sharing options that can host up to 100 participants.
Features
Joining meetings from wherever you are Continuous adaptive security enhancements
Better audio quality
More control of your mobile device
Pros
Very good video and audio quality.
Screen sharing is simple and easy.
Ease of use in scheduling and starting meetings.
Ease of use in recording meetings
Cons
The interface feels a bit clunky.
Free Version/ Trial
Available
Starting Plans
$29.99
Wrapping-Up
No matter what you do—whether it's education, e-commerce, or something else—there's a video conferencing solution out there for you. All you need to do is dissect your organization's needs. Zoom is reliable and best for large video calls. If you are looking for the best overall choice of video conferencing software then ClickMeeting will be a good choice. Before selecting the best option for you check for software that will provide you good quality video, audio, affordable rates, and your all other needs.
Related Posts
A team of Digital Marketing experts led by Vijay Sood.