Optimize Profile Information for Searches
Follow Real+Active Users
Ideally, at least 20% of the people that you started following, should follow you back.
People are more inclined to follow back Instagram accounts that:

Look real
Have more followers than the account is following
Have a lot of followers*
Have a nicely designed feed of posts
Find New Hashtags and Rotate them Often
The right hashtags (and location tag) can expose your image to a large and targeted audience

Nine

hashtags seem to be the optimal number for getting the maximum engagement
Avoid Using same Hashtags repeatedly as IG algorithm can consider it as Spam.
Fact Check
Instagram posts with both hashtags and a location tag get the highest average engagement
Share your Story behind every feed
Plant and grow a theme account
Share a story every day
Many users even report they love watching Stories more than the endless "scroll" of their fee
Get creative with your Stories. Take your followers behind the scenes and show them the most interesting parts of your day. Ask questions. Use polls, quirky GIFs, and music. Play with filters and Boomerangs.
Utilize Existing Links
Send out a newsletter to your existing customers, inviting them to follow you on Instagram
Remember that when you want people to do something, you need to give them an incentive. In this case, a discount for your products to the first 100 followers could work just fine.
Like Photos in your niche
Find Users in your niche by using hashtags, or checking the followers of your favorite Instagrammers.
Go through and like 5-10 photos on someone's account. It would also help to leave a genuine comment and give them a follow. This helps to get your name out there and allows other users to discover you.
Choose your theme and stick to it
Ask for Collaborations
You must think of fun, creative ways to collaborate with other users.
Ask another Instagrammer in your niche if you can "take over their account" for the day as a guest contributor.
Start an Instagram challenge with daily prompts
Instagram Story takeovers are a blast and can dramatically grow your following fast
Use Geotags more often
When you Geotag photos, other people who used the same geotag can see your photo and potentially follow you since you now have so much in common
Try running contests and hosting giveaways
If you have something you'd like to give away, try running a contest.
Have users repost a specific image and tag you in the caption. Ask them to follow you. Or invite them to use your hashtag on their own images.
Respond. Comment. Socialise.
Respond to the comments you receive and leave comments of your own on others' work.
Try to leave genuine comments and questions that encourage them to post more photos.
With many engagements, your posts may even be featured in the top posts of hashtags or in the Explore tab, reaching even more people. And help you to grow Instagram followers organically.
While leaving comments, try to write something related to the caption or the post — the more human you are, the better! Ask specific questions or add your own opinion. This will prove to other Instagram users in your community that you are genuinely interested.
Fact Check
The more engagement a post has, the more people will see it in their feed.
Create Hashtags and make them go viral
Create a unique hashtag (make sure it's not already being used!) and ask others to use it
It works best if the hashtag has a specific purpose
Once people start using your hashtag (and YOU use it, too!), then you can repost images from your followers (giving them proper credit, of course!)
Mention your IG Account on other platforms
People who love to follow you on your blog and FB account, will surely connect with you over IG. So, do mention your IG account on different platforms.
Post consistently (at least once a day)
When you are consistent and people are engaging with your posts, IG algorithm may place your posts near the top of your follower's feeds.
Fact Check
The more often you post, the more likes and followers you get.
Go Live sometimes
The average engagement for videos is growing faster than the average engagement for images
When you go live on Instagram, you will appear right at the front of the Stories feed
Implement Cross Posting
Instagram makes it simple to share your posts to Facebook, Twitter, and Tumblr. This lets your existing fans know that you're on Instagram.
Try embedding Instagram photos in your blog posts
Make use of Best times to Publish
Try to find the best times for your brand, when your followers are most active.
Instagram Insights feature can help you in it.
Share user-generated content
Take the best-of-the-best user content from around the web and feature it on your own social media or other platforms while giving credit to the original creator (user).
Switch to a business account
Take the best-of-the-best user content from around the web and feature it on your own social media or other platforms while giving credit to the original creator (user).
Benefits

Access to analytics or Instagram Insights
Instagram ads
Ability to Add a Contact Button
Ability to Add Links to Instagram Stories (*after 10k followers)
Tag a friend
Sometimes, you can simply asking people tag their friends in your post.
This strategy works well with emotionally powerful content — quotes, funny and/or inspiring videos, posts about animals etc.
Do ensure that such a post does not looks over promotional and it should match the theme of your account.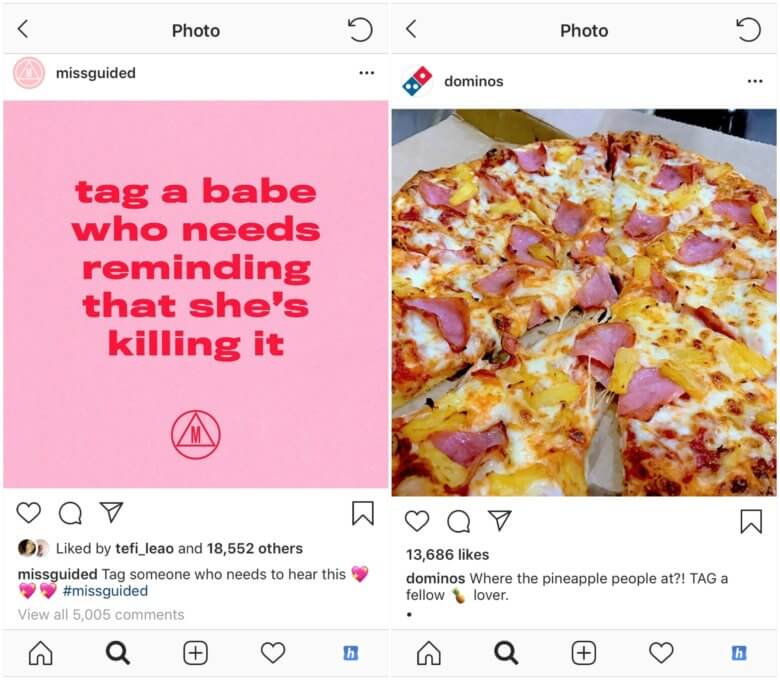 Shoutouts
You can Collaborate with other Instagram accounts for shoutouts.
Do ensure that such a post does not looks over promotional and it should match the theme of your account.
Competitor Spying
This is very simple yet effective way to reach people already interested in your industry. For example, if you are selling silicone shoes covers, then you can try to search for trending posts related to it.
Now, any of these trending posts and check the people who have engaged on these posts.
Next step would be to follow up these people. There are high chances they will either check your profile or follow you back. In this way, you will be able to link with them for long term.
We hope that these tips will surely help you to grow Instagram followers organically.
A team of Digital Marketing experts led by Vijay Sood.